by Brianna Acuesta at trueactivist.com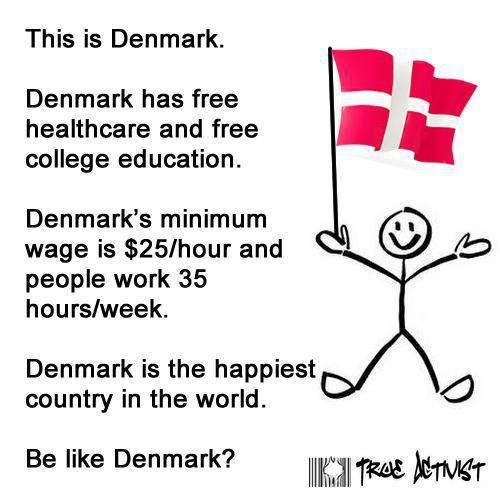 True Activist recently posted and circulated a meme that made some pretty bold statements about Denmark and their economy and raised a lot of questions about whether such an economical structure really leaves its citizens satisfied. The meme was set in the format of the Blobla memethat went viral on Facebook, which inserted your name and generated one of its statements to describe you and tell others to be like you. Similarly, the Denmark meme aimed to convince others, namely Americans in a capitalist society, to be more like Denmark in their socialist structure. But is the Danish structure as simple as the meme claims it is, or is there more beneath the surface? More importantly, is there really something we can learn from Denmark's structure and do we want to be more like them?
Let's break it down. The first section states that Denmark has free healthcare and free college education. This is true if by "free" you mean you don't directly pay for your doctor visits or college tuition, but, as the saying goes, there is no such thing as a free lunch. Though you likely won't pay directly for these services, you will certainly pay for them when you pay any kind of taxes. Perhaps the biggest criticism Denmark faces is their high tax rate; for example, their income taxes range from 41-56%. Sales tax begins at 25% and can often increase based on the items you buy. Compared to taxes in the United States, these figures seem alarmingly high, but that's because we aren't factoring in how much we pay out-of-pocket for our health insurance and college tuition. If we were to add up those figures, the amount we are paying is significantly more than the money that Danes are paying in taxes.
As if it weren't enough toreceive a free college education, Denmark also pays its students a stipend of up to $900 per month if they are enrolled in college, beginning at the age of 18. This stipend can extend for up to 6 years and the only major stipulation is that the student not live with their parents. So yes, when you hear that Danish students get paid to go to college, it is actually true. Additionally, when the Organization for Economic Cooperation and Development studied the happiness of almost 40 democracies, it found that people with only a primary education rated their overall life happiness to be a 5.9 out of 10, versus those with a tertiary education, who rated their happiness to be much higher at a 7. This means that Denmark is directly assisting its citizens in eventually leading a happier life.