Video footage that captured a dolphin final moments before it tragically died during Japan's annual Taiji Cove hunt, has been released by conservationists.
Ric O'Barry, founder of The Dolphin Project and star of the 2009 documentary film "The Cove,"witnessed the first days of the Taiji dolphin hunt.
In the video, O'Barry shows a pod of Risso's dolphins frantically swimming around in a sea pen. The dolphins, which had been herded into the cove from deeper waters, can be seen tangling themselves in the netted walls while others desperately attempt to swim beneath the nets.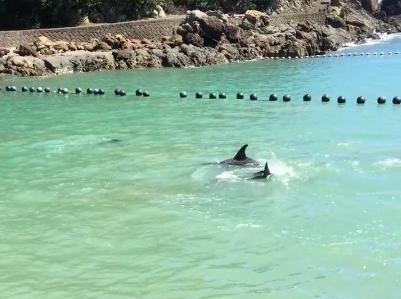 Despite increasing pressure from animal rights advocates, the six month Taiji hunts continues to turn the cove's waters a haunting shade of red every year. Since 2010, the conservation organization Sea Shepherd, has attempted to pressure the Japanese government into ending the hunt by sending "cove guardians to document and live stream the slaughter.
In addition, this year the conservation organization launched Operation Henkaku, a campaign which will "feature a stronger focus on the inextricable link between the slaughter and the global captive industry.
According to a report by The Dodo:
"Each year, 20,000 dolphins are slaughtered in Japan, hundreds of them in the Taiji hunt alone. The few who survive the blood-red waters are sold into captivity, fated to spend the rest of their lives cut off from family and performing at zoos and marine parks."
Although many have claimed the hunts are a cultural heritage and tradition, dolphin drive hunts have only recently become a common occurrence.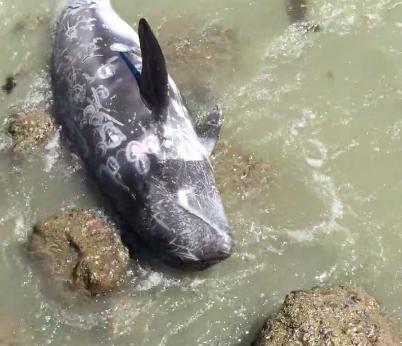 In the featured video, a dolphin throws itself at Ric O'Barry's feet in a desperate attempt to escape the massacre surrounding him. Much to his dismay, O'Barry was unable to help the dolphin during its moment of suffering.
"I will be arrested immediately," he says. "The police are all over the place." Any interference by activists could potentially result in immediate arrest and a lengthy prison sentence.
"This is anguish," O'Barry said. "[He's] panic-stricken on the rocks, and I am heartbroken that I can't get in the water and help him away from … he's tearing his skin up. This is awful. That dolphin's not going to make it. He's given up."
Just moments later, the dolphin can be seen sinking to the bottom of the water. The dolphins absence is then greeted by a boat carrying a man in a full scuba suit.
"They're sending over a diver," O'Barry says. "Probably with a knife to take him out."
Watch and share the video below to help end the slaughter of these highly intelligent and socially complex marine mammals.