The US Justice Department is investigating Florida cops with the Bal Harbour Police Department and Glades County Sheriff's Office for laundering more than $70 million for drug cartels and other criminal organizations.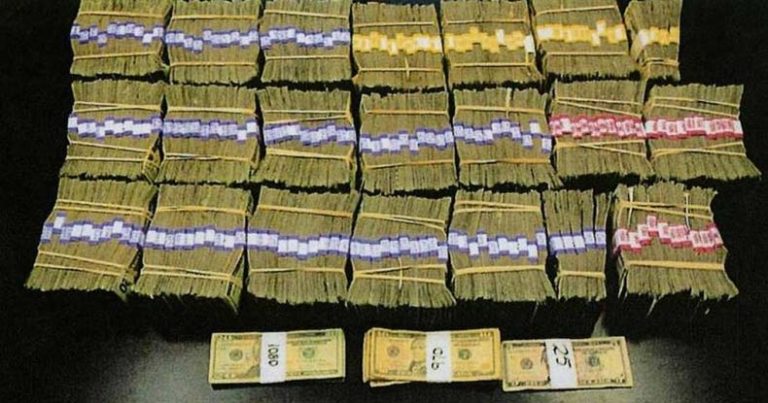 According to an in-depth investigation by The Miami Herald, with fake identities undercover police officers netted $2.4 million and bought Mac computers, a Jeep Grand Cherokee, electric money counters, iTune downloads, FN P90 submachine guns capable of cycling 900 rounds per minute —and spent lavishly on first-class flights and five-star hotel stays.
In the end, they made no arrests of their own, and ended up returning all the money they laundered to the criminal groups. They also withdrew $1 million in cash with no records to show where the money went – and struck millions in additional money-laundering deals that were never disclosed.
Although, from 2010 to 2012, the 12-member Tri-County Task Force, formed to investigate money-laundering by the Bal Harbour PD and the Glades County Sheriff's Office, helped federal agencies seize almost $30 million, the undercover unit audaciously laundered over $70 million for drug cartels, skimming a 3% commission fee, ultimately generating $2.4 million for themselves for brokering the deals.
http://www.miamiherald.com/news/local/community/miami-dade/article41446554.html
Thanks to the commissions from money laundering, the task force turned into a big-spending, high-rolling force. Officers enjoyed $1,000 dinners at restaurants in the Miami area, and spent $116,000 on airfare and first-class flights and nearly $60,000 for hotel accommodations, including stays at the Bellagio and the Mandalay Bay in Las Vegas and El San Juan Resort & Casino in Puerto Rico. Police also spent over $100,000 on iPads, computers, laptops and other electronics, bought a new Jeep Grand Cherokee for $42,012 and even purchased $25,000 worth of weaponry, including FN P90 submachine guns.
In 2012, the task force's final year, Bal Harbour reported just one violent crime — an aggravated assault — in the village of 2,500 people.
"They were like bank robbers with badges. It had no law enforcement objective. The objective was to make money," said Dennis Fitzgerald, an attorney and former Drug Enforcement Administration agent who taught undercover tactics for the US State Department.
According to documents, officers would travel to New York to pick up drug money, and were directed by brokers to wire it to Venezuelan banks inside Panama. Former chief inspector of the DEA Felix Jimenez said that the officers violated strict federal bans on sending illegal money overseas.
"They had no authority to do what they were doing.They should have known better. Who gave them the authority? It's absurd. They were just laundering money for the sake of laundering money," Jimenez said.
The latest revelations show that at least 20 people in Venezuela were sent drug money from the Florida cops, including William Amaro Sanchez, the foreign minister under Hugo Chavez and now special assistant to President Nicolas Maduro. They wired a total of $211,000 to Sanchez, even while the US government was investigating Venezuelan government leaders involved in the drug trade. Instead of reporting their knowledge of Sanchez to federal agencies, the cops went on laundering money, taking their cut, and aiding Sanchez in his scheming.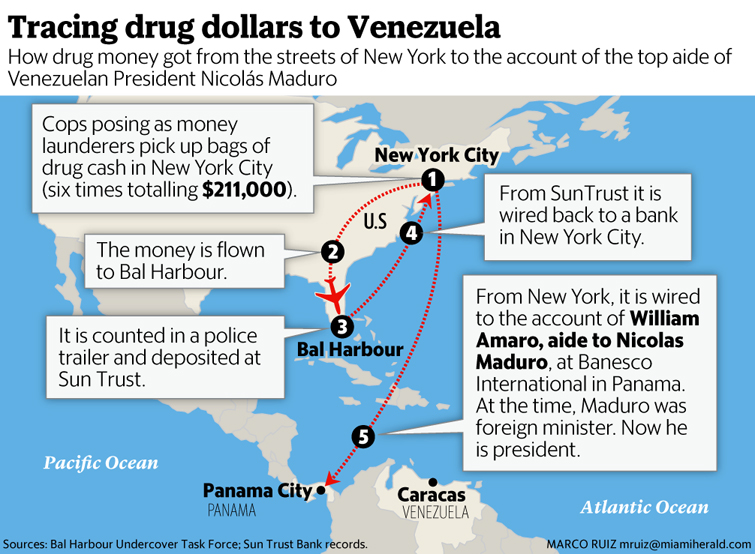 Ruben Oliva, who has represented narco-traffickers since the 1980s, commented:
"I can't think of a more Podunk town than Bal Harbour — not in a bad way. But in the sense that these cops would have otherwise been stopping traffic or shooting radar. In reality they were being launderers. The minute they started doing busts, it would have been over. This is like a movie. You've got these guys and they're flying all over. They're saying, 'Hey, I'm in the big leagues.' I've seen every kind of law enforcement money-laundering investigations. I've never seen anything like this. It's really one for the ages."
Former Bal Harbour Police Chief Tom Hunker, who created the task force in 2009 and resigned in 2013, said in a prior interviews all money laundered by the task force, including payments to informants, was documented and can be accounted for. "There are records. All the records are there. They're just not looking in the right place."
However, a recent audit of the task force's finances by a Miami firm hired by Bal Harbour leaders found dozens of instances of officers withdrawing thousands at a time with no records to show where it was spent. Auditors, in addition, believe the amount laundered was about $83 million. Mark Overton, who succeeded Hunker as chief, said police are still searching for any records that could help reconcile the differences.
It was also revealed that the police tapped into the drug money to pay for the operation without seeking court approval, as required under Florida law. Fitzgerald, the former DEA agent who once worked in Miami, said the task force was driven by the deals, not government rules. "They did whatever they wanted to do. No one was watching them. They were given a long leash and no one pulled the choke chain."
It's almost as if power corrupts… Entire Florida police department laundered drug money https://t.co/sMNyioWnX6 pic.twitter.com/CiOCPtTemL

— John Iadarola (@jiadarola) January 2, 2016
Is it a coincidence that the money laundering sting was conducted at a time law enforcement agencies across Florida were looking to boost their budgets during one of the state's toughest economic periods?
"We had to find a revenue stream. We thought this was a chance to bring in more revenue. It allowed us to have resources we wouldn't normally have," Duane Pottorff, chief of law enforcement at the Glades County Sheriff's Office, remarked candidly about his agency's motivations in joining the task force.