The main terrorist threat in the United States is not from 'Muslim' extremists from the Islamic State or Syrian refugees fleeing war-torn homeland – the misinformation that most Americans suffer from – but from homegrown domestic non-Muslim extremists.
According to data from the New America Foundation, attacks by right-wing extremists, white supremacists and antigovernment fanatics have killed almost twice as many Americans as jihadists in the 14 years since 9/11. According to The Guardian, a recent Bureau of Justice report found that over the last eight years, an average of 928 Americans have died annually at the hands of the police – in other words, in those years, there were 7,427 police homicides, the equivalent of more than two 9/11s.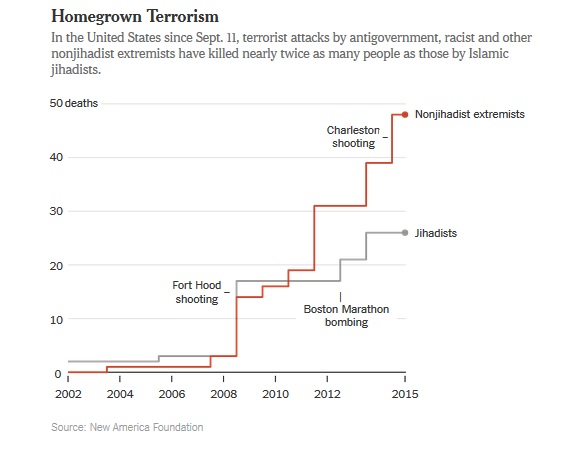 If that didn't make you anxious over non-Islamic-induced terrorism or shed your overblown fear about Muslims, take a look at 6 actual acts of terrorism that occurred in November on American soil when everyone was panicking about refugees and ISIS…
Planned Parenthood Shooting In Colorado Springs
On November 27, Robert Lewis Dear Jr, motivated by his opposition to abortion, walked into a Planned Parenthood clinic in Colorado Springs and shot at least 12 people, killing three and wounding nine others during a five-hour standoff with police. At a hearing in state court on December 9, he publicly declared his guilt. Describing himself as "a warrior for the babies", he said, "I am guilty. There will be no trial."
Planned Parenthood Rocky Mountains CEO and president Vicki Cowart, said in a statement that the attack was "motivated by opposition to safe and legal abortion", adding, "This is an appalling act of violence targeting access to health care and terrorizing skilled and dedicated health care professionals."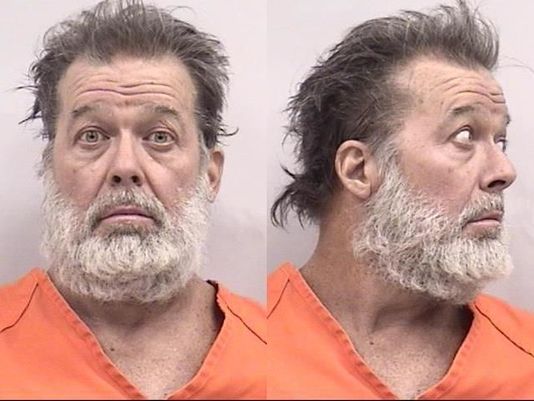 Gun-Toting Islamophobic Group Intimidates Muslim Americans At Irving Mosque
On November 21, about a dozen men armed with rifles, shotguns, Islamophobic signs and American flags protested on the sidewalk outside the peaceful Islamic Center of Irving, Texas. One sign read "Stop the Islamization of America" and another, with arrows pointing at armed protesters dressed in military clothes and face masks, read "The solution to Islamic terrorism".
"We are here protesting Syrian refugees coming to America, protesting the Islamization of America," group spokesman David Wright told Fox 4 News. He admitted to Dallas Morning News that part of the protest was to intimidate the Muslims worshiping there. "They're [the guns] mostly for self-defense or protection. But I'm not going to lie. We do want to show force. We're not sitting ducks. It would be ridiculous to protest Islam without defending ourselves."
http://up.anv.bz/latest/anvload.html?key=eyJtIjoiZXBmb3giLCJwIjoiZGVmYXVsdCIsInYiOiIyMjQ4MDIiLCJwbHVnaW5zIjp7ImRmcCI6eyJjbGllbnRTaWRlIjp7ImFkVGFnVXJsIjoiaHR0cDovL3B1YmFkcy5nLmRvdWJsZWNsaWNrLm5ldC9nYW1wYWQvYWRzP3N6PTY0MHg0ODAmaXU9LzYzNzkwNTY0L2tkZncvbmV3cyZjaXVfc3pzPTMwMHgyNTAmaW1wbD1zJmdkZnBfcmVxPTEmZW52PXZwJm91dHB1dD12YXN0JnZwb3M9cHJlcm9sbCZ1bnZpZXdlZF9wb3NpdGlvbl9zdGFydD0xJnVybD1bcmVmZXJyZXJfdXJsXSZjb3JyZWxhdG9yPVt0aW1lc3RhbXBdJmRlc2NyaXB0aW9uX3VybD1odHRwJTNBJTJGJTJGd3d3LmZveDRuZXdzLmNvbSUyRm5ld3MlMkY1Mjk3NzkxNS1zdG9yeSJ9fX0sImFudmFjayI6ImFudmF0b19lcGZveF9hcHBfd2ViX3Byb2RfYjMzNzMxNjhlMTJmNDIzZjQxNTA0ZjIwNzAwMDE4OGRhZjg4MjUxYiJ9
Bomb Hoax At Dar Al-Hijrah Islamic Center In Virginia
The Fairfax County Police Department arrested 27-year-old Chester H. Gore after he planted a hoax explosive device at the Dar Al-Hijrah Islamic Center in Falls Church, Virginia, on November 19. Officials said Gore was charged with using the device, possession and use of illegal fireworks, entering the property of another for the purpose of causing damage based on religious conviction, and destruction of property.
According to the mosque's outreach director, Imam Johari Abdul-Malik, less than one week earlier, a man had entered the lobby of the mosque, yelled epithets, and shouted: "You need to go back to where you came from" and "you need to accept Jesus".
hite Supremacists Plot To Attack Synagogues, Black Churches
FBI agents arrested two alleged white supremacists in Virginia on November 8 for planning a reign of terror — shooting or bombing religious institutions; robbing jewelers, gun store owners and armored cars; and using the proceeds to "purchase land, stockpile weapons and train for the coming race war".
Ronald Beasley Chaney III [left] and Robert Curtis Doyle [center] were arrested as part of an undercover FBI operation in which an agent posed as an illegal arms dealer selling weapons and explosives to the two Virginia men. A third man — Charles D. Halderman [right]— was arrested later and charged with conspiracy to commit robbery.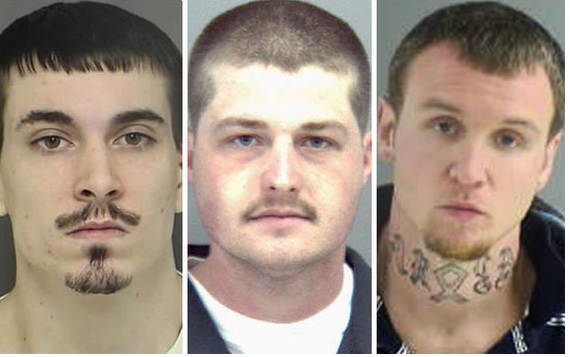 Revenge Attack: Mosque Shot At In Connecticut
On November 15, multiple gunshots were fired at a Connecticut mosque, hours after the terrorist attacks in Paris. Members of the Baitul Aman Mosque in Meriden discovered the scene of violence just before Sunday evening prayer.
"The picture is getting increasingly bleak. There's been an accumulation of anti-Islamic rhetoric in our lives and that I think has triggered these overt acts of violence and vandalism," Ibrahim Hooper, spokesman for the Council on American-Islamic Relations, told the Associated Press.
<script type="text/javascript" charset="UTF-8″ src="http://www.nbcconnecticut.com/portableplayer/?cmsID=351253591&videoID=J_yA_f34GlsC&origin=nbcconnecticut.com&sec=news&subsec=local&width=600&height=360″></script>
Black Lives Matter Protesters Shot In Minneapolis
A peaceful demonstration for Jamar Clark and Black Lives Matter, demanding action against two white Minneapolis police officers involved in the fatal shooting of Clark, a 24-year-old unarmed black man, exploded into violence on November 23 in Minneapolis when masked white supremacists opened fire and shot five protesters.
The racial tension at the protests began to grow after a video was posted online showing two young men in masks and military fatigues urging viewers to "stay white" and revealing their plan to go to the protest to "make the fire rise" and "do a little bit of reverse cultural enriching".