"Paid patriotism" events have been contracted by the Pentagon. Since 2012, more than $10 million have been contracted to professional sports teams to stage their undying allegiance to their nation, using taxpayer money to serve recruitment efforts for the military. A recently released governmentoversight report documents the project.
Separate sports teams from the National Football League (NFL), Major League Baseball (MLB), NASCAR, the National Hockey League (NHL), and Major League Soccer, have been documented as participating in the Pentagon's paid patriotism. According to an investigation by Republican Sens. John McCain and Jeff Flake, events were varied from ceremonial first pitches and wounded warrior tributes, were portrayed as authentic and more importantly, voluntary.
The estimated $10.4 million figure for these voluntary events capitalizing on genuine patriotism is under-reported, according to McCain and Flake in their report. "…paid patriotism is wholly unnecessary and a waste and abuse of taxpayer funds, and it must end," Flake and McCain have noted. "Direct and persistent sunlight is the best way to ensure that such activities are not continued. Taxpayers—not the teams—paid for patriotism and VIP perks."
Between 2012 and 2015 taxpayers unwittingly funded:
$879,000 for the Department of Defense's contract with the Atlanta Falcons, to welcome 80 National Guard's as they unfurled an American flag in the Georgia Dome before the National Anthem;
$650,000 to the Buffalo Bills;
$1.6 million to NASCAR for the appearances of retired driving legend Richard Petty;
$128,000 was given to the Seattle Sounders to play "a compelling Army National Guard public service message" during games;
$700,000 was handed to the New England Patriots to honor one Massachusetts Army National Guard soldier at each home game for 2 seasons; and more.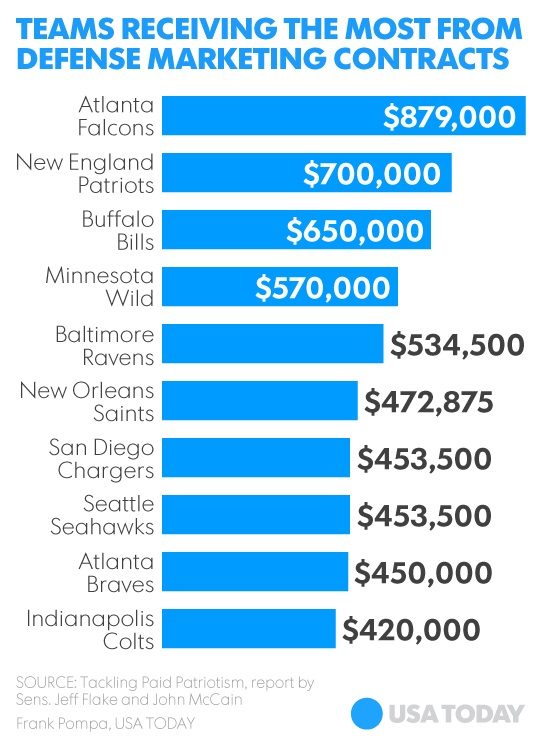 A report from USA Today suggested the number of contracts and amounts of money flowing was difficult to determine, and according to Flake, he agrees. Records asked for by Flake for marketing contracts in 2012 were either incomplete or missing.
In light of the investigation, Roger Goodell, the NFL commissioner, wrote to senators with his personal assurance that "an audit of all contracts between our clubs and the military service branches or state National Guard units." He went on to say that inappropriate payments would be compensated, "if we find [them]."