French police have confirmed shooting dead a knife-wielding man shouting 'Allahu Akbar' (God is Great) in the capital Paris, as he tried to enter a police station and launch an attack against officers on duty.
The incident happened around 11:30am local time (12:30 GMT) outside a police station in the Goutte-d'Or area at the 18th arrondissement (district) on Thursday.
France was still marking the first anniversary of the killing of the owner of the satirical magazine, Charlie Hebdo along with 16 others when this failed attack happened. On January 7, 2015, some self-proclaimed Islamists launched a deadly attack on the headquarters of the Charlie Hebdo magazine. It was quickly followed with a fatal shooting of a policewoman, and a hostage-taking at a Jewish supermarket. These incidents brought the entire country to a standstill.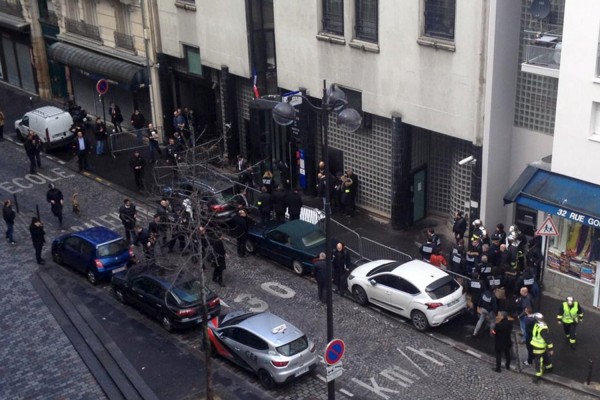 #Barbes #Gouttedor A robot appears to be inspecting the body. pic.twitter.com/scUv9Vil8E

— Anna Polonyi (@akilincs) January 7, 2016
Another unnamed eyewitness to the attack also told reporters that two to three shots were fired by the police before the man was killed.
Prosecutors in Paris have said the man was found to be carrying a cell phone and a paper with an Islamic State flag. And police source also confirmed retrieving a handwritten note written in Arabic claiming responsibility for the attack from the man after he was shot dead.
The Reuters News Agency quoted prosecutor Francois Molins as saying "A mobile phone and a piece of paper, on which appear the Daesh flag and a clearly written claim in Arabic, were found on the individual".
Le quartier de Barbès est bouclé par l'armée et la police pic.twitter.com/zvZ83gxf09

— Jonathan RT France (@Jonathan_RTfr) January 7, 2016
Initially, there were fears that the attacker could have been wearing a suicide belt, but police sources later confirmed it was a fake one.
Police have secured the area. According to other reports we also gathered, the man first attacked some on-duty policemen. One officer is said to have sustained injuries, and he is currently being treated in hospital.
France 24 reports that security official have opened an anti-terror inquiry into the incident. The television station further reports that investigators have matched the fingerprints of the attacker with that of a convicted thief known as Sallah Ali from Morocco.  Ali was said to have been born in the city of Casablanca in 1995, and arrived in France as a homeless man.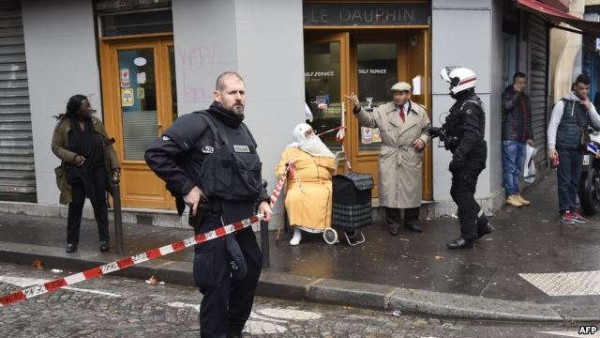 Before the incident happened on Thursday, the French President, Francois Hollande had paid tribute to police officers who died during the Charlie Hebdo attack last year. President Hollande said there would be an unprecedented strengthening of French security, which would include a further 5,000 police officers.
The incident comes less than two months after deadly attacks in Paris on November 13, 2015 left some130 people dead. Since then, a number of security measures have been implemented across the country, including a three-month state of emergency. Police have also been given special powers to launch raids on homes, mosques, restaurants and hotels.
Related articles:
Charlie Hebdo Fired 'Anti-Semitic' Cartoonist For Ridiculing Judaism In 2009
Anti-Muslim Attacks After The Charlie Hebdo Massacre
Charlie Hebdo…and the other Cartoonists that paid with their Life