A hijab-wearing Muslim woman was escorted out of the Republican Party's nominee hopeful, Donald Trump campaign event in South Carolina by police.
The woman, identified as Rose Hamid, a 56-year-old flight attendant was ordered to leave the event after standing in silent protest against Trump's controversial comments on refugees.
Mrs Hamid was accompanied by an unidentified man to protest against Trump. The two were escorted out of the place by the police providing security at the event.
Trump came under fire when he remarked recently that Muslims should be banned from entering the United States because they are potential terrorists. He also said the United States should not grant asylum to people fleeing violence in the Middle East, especially those from Syria as they are affiliated to the self-proclai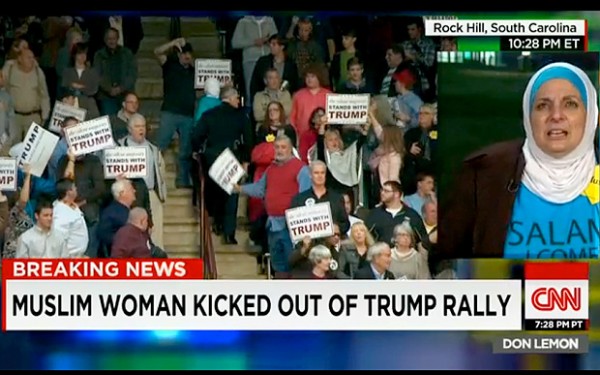 And at the rally organized in Rock Hill on Friday, Mrs Hamid stood up during Trumps speech when he again repeated that Syrian refugees fleeing war in Syria are affiliated with ISIS fighters.
Mrs Hamid was wearing a hijab and a shirt that read 'Salam, I come in peace'. She said she had hoped that her message will probably manage to change the opinion of Trump and his supporters in the auditorium about Muslims.
But to her surprise, supporters began looking at her in a very suspicious manner. According to theTelegraph, supporters around her began chanting loudly "Trump Trump", and demanded that Mrs Hamid should be shown the way out of the event. Mrs Hamid confirmed to reporters that one person in the crowd even shouted at her "You have a bomb, you have a bomb".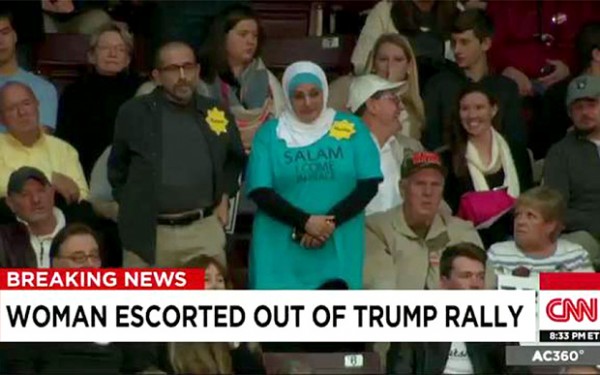 Police chief of the Rock Hill Police Department, Major Steven Thompson later confirmed the incident toCNN. He said Mrs Hamid was thrown out of the event because Trump's campaign team had told him beforehand that anybody who made any kind of disturbance should be escorted out of the place.
Before this incident in Rock Hill, on Thursday evening, a rally organized by Trump in Vermont was repeatedly disrupted by protesters. It is said Trump's staff screened the crowd attending the rally, hoping to get only his supporters.
The Telegraph said rally-goers with tickets in hand were asked as they entered whether they supported Trump. Those who said they didn't were promptly escorted out of the building
---
But despite the screening, the event was interrupted repeatedly by protesters. The protesters were also escorted out of the event just like Mrs Hamid. Vermont is said to be a solid Democratic state, and it is the place where Bernie Sanders got his political start. Sanders is also hoping to be the nominee of the Democratic Party.
However, Trump later defended the decision for the screening process. He said in statement released by his campaign team "We have more than 20,000 people that showed up for 1,400 spots. I'm taking care of my people, not people who don't want to vote for me or are undecided".
Political commentators in the United States have said Trump is likely to be the candidate for the Republican Party in this year's Presidential Election in the country.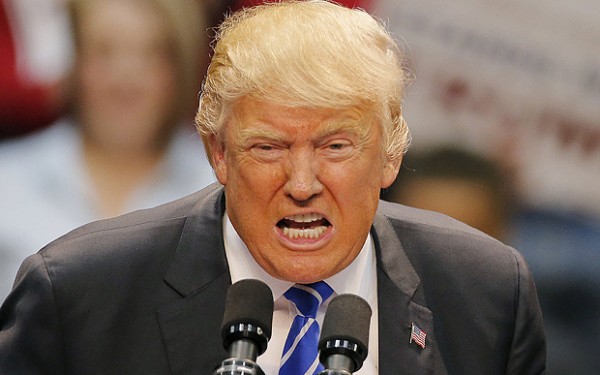 But critics say his far-right views on issues which have international repercussions are likely to derail his ambition of becoming the 45th Executive President of the United States of America.
The United States presidential election this year is scheduled for Tuesday, November 8, 2016. It will be the 58th quadrennial presidential election in the country. Voters will select presidential electors who in turn will elect a new president and vice president through the Electoral College System.