"El Chapo" Guzmán was recently recaptured (again)- because of his own inflated ego, according to Mexican authorities.
El Chapo leads the massive  Sinaloa Cartel drug-trafficking empire which spans the globe, which the US Justice Department describes as "one of the world's most prolific, violent and powerful drug cartels".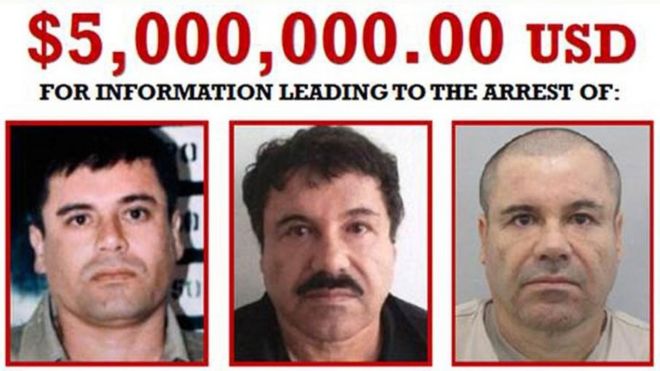 Mexican Attorney general Arely Gómez claims that it was his limitless narcism and his desire to film a biopic that would prove to be his undoing; the idea for a biopic would eventually lead to his recapture in a rural Los Mochis hotel.
Guzmán made headlines when he escaped not once, but twice from Mexican authorities. His more recent escape came courtesy of a 1.5 km tunnel with a working ventilation and oxygen supply, made all the more embarrassing for Mexican President Enrique Pena Nieto because Nieto had previously (infamously) stated that a second escape from the maximum security prison would have been "unforgivable". He has since called the recapture of the drug kingpin a "victory for the rule of law"."Mission accomplished," Peña Nieto wrote in a tweet that broke the news. "I would like to inform the Mexican people that Joaquín Guzmán Loera has been captured."
Third time's the charm right?
---
Guzman was apparently in the process of filming a biopic about his "rags to riches" life, how he began by selling oranges in the street and ended up on the Forbes billionaires list.
He was apparently so obsessed with the idea that he had contacted movie producers and actresses through third parties after he had escaped. With his unwitting assistance, authorities were able to figure out that he was in Sierra Madre.
"He established communication with actors and producers, which formed a new line of investigation," Gómez said, which  allowed authorities to trace the movement of his lawyers  as they met with possible biopic participants.
Movies depicting Mexico's war on drugs and drug trafficking have received critical acclaim in Mexico, with one ironically depicting El Chapo's life and recent escape set to air in less than a week on the 15th of January.
Not everyone believes the Mexican government's claims though; Rodolfo Soriano Nuñez, a sociologist in Mexico City claimed,"why would a drug lord call attention upon himself when he is hiding? It makes no sense." No names of potential actresses or details for the alleged biopic were provided so far.
Guzman was arrested on Friday, during an early-morning raid which led to six deaths including one marine. He was arrested while fleeing through a drain.
Sources: The BBC, The Guardian